CONTROLLABLE PITCH PROPELLERS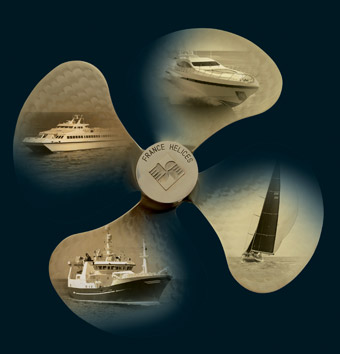 FRANCE HELICES manufactures, in France, thanks to a qualified team as well as to the
state-of-the-art technology, high quality custom and standard products.
FRANCE HELICES manufactures to measure and distributes a multitude of spare parts, such as :
If you require other parts, our services will be happy to process your request and provide you with a quote,
for any question please contact our shop at +33 (0)4.93.47.69.38
A structured organization with more than 40 years of experience to carry out your most challenging projects.
PERFORMANCE-SAFETY-FUEL ECONOMY
The name of the salesperson will be communicated to you, will follow your project and provide you with a personalized offer including a transport cost and a lead time.
A follow-up of your project is carried out internally at all stages and by all concerned departments to ensure that our commitments are met.
The N°1 priority at FRANCE HELICES is to satisfy your technical request, in order to build a long-lasting partnership.
A SKILLED TEAM AT YOUR SERVICE
Each person employed by FRANCE HELICES masters his or her field of excellence.
More than a third of our staff has more than 15 years of service and know-how at FRANCE HELICES.
THE RESPECT OF GUARANTEED QUOTES AND DELIVERY TIMES
FRANCE HELICES services are committed to respecting the costs and deadlines announced on their quotation. FRANCE HELICES strives to provide you with a total cost of the purchase, by integrating logistics costs and lead time.
Our teams are reactive, and adapt to the requirements of your expectations within a short period of time.
ORGANISATION OF INTERNATIONAL TRANSPORT
The packaging of our goods is decided according to the weight, the regulations and the country of final destination and according to your request (shipment by air, boat, train, truck).
Our packaging crates are NIP15 norm.
For any specific request, please contact our logistics department.